Oh how I love garage sales! Unfortunately I never get to go! I probably could more but I hate going by myself. Anyways today we went to a couple, we got started very late as hubby had to work and then I had to deliver some candle orders. We also stopped at the salvation army and there I hit the mother load of goodies!
I found this cute little jar for only .79 and several other littles ones that you see for .39! Woohoo!
This little beat up silver cup was only .39 as well, It's pretty beat up but that is what I love about it!
This little thing with the silver bowls in it I am not so sure about, I have seen similar items that people have found while blog hoppin but this one is different than those, but I figured if I paint the middle piece it will look alot better. I believe it was 1.79.
I love love love this little set, these were 1.49 I believe. They are so cute and are in excellent shape! Would you like cream with that? Hahaha, sillly me....
And this be my favorite find of all!!! This was only 10.00, you can't see the top but it has a back on it with pretty wooden decals on it, no idea what you call them. I love the hardware and the little keyholes, won't she be pretty black and antiqued? Ohhh I can't wait to finish it, this will definately get worked on tonight. It's very shiny so I have lots of sanding to do, but other than that, it's a solid sturdy little dresser. I had to have it, hubby took us home and went back and yes shoved it in our car, lol. We so need a truck, If we had a truck my house would be full, seriously.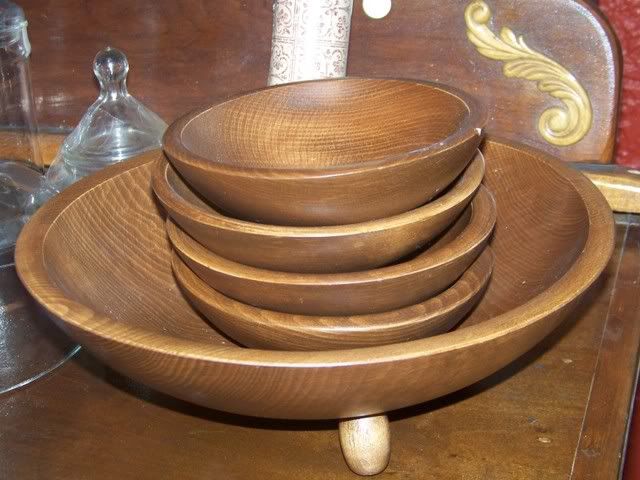 I also found this set of wood bowls, the big bowl and 4 little bowls for 3 something. Not sure what I will do with the little ones but the big one I want to paint black but no no no I will paint it white as I need more than black. Any ideas for the little ones? In this picture you can kind of see the back of the dresser that I am talking about and the little wooden things, lol.
Some other goodies I scored were some small styrofoam trees for .39, a bag of baby blocks, new shoes for my littlest bugaboo for 1.00, and a couple of tommy outfits, but I won't bore you with those pictures. Oh and I got a nice wooden breadbox that just needs some paint and antiquing, not sure about using it as a breadbox but will work for something and only 1.49! Come back tomorrow and see what I do with all of my goodies! I can't wait to see all of your weekend finds!
Stop by
Southern Hospitality
and see everyones Great finds for the week! Go share your finds for the week too, I can't wait to see them!!!