So tonight we took a trip to Jcpenney as I had a $10 off a $10 purchase coupon that was expiring and wanted to use it, well they were getting ready to close so we didn't get to look much and I just grabbed a few outfits for the little ones, I will show you those in a minute but as we were checking out I seen some awesome bedding displayed on a bed so I decided to look it up on there site when I got home and sure enough there it was and it's all the color I have been wanting in my bedroom....Well forever I have had toile bedding, I have the waverly black and white toile quilt and other stuff, I am a huge lover of all things toile but thought I should do something completely different in my bedroom and was wanting my colors to be like a burnt orange, robins egg blue, and brown and this bedding has all those colors....Here it is...
Isn't it pretty? But here is the dilemma, keep in mind I have toile now and have had for many years...I found this bedding while on there website....
Isn't it gorgeousssssss!!!!!! I love love love love love it! and it also comes in this color....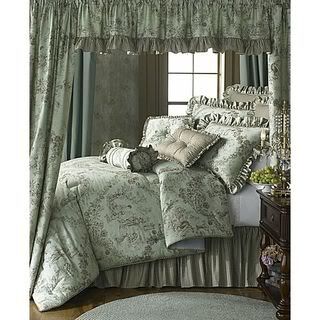 Isn't it beautiful????? I am thinkin I might have toile for many years more, lol. What would you do? And what on earth color would I paint my walls with this bedding? I wanted chocolate brown walls for the other bedding or for anything lol. But what color would go with these? I don't do white or off white, I don't know I just like color on my walls. I am in love with this bedding though and someday she shall be mine!
Ok so enough about my dream bedding...Here is another dilemma for ya..our bedroom is soo so very teeny tiny...I mean teeny tiny....Do you get where I'm goin? It's small. We barely have room for our king size bed, a dresser, and nightstand. Unfortunately we have much more crammed in there right now. Anyways our bedroom and our bugaboo #2's room is on the main floor of the house. Bugaboo #2's room is currently my storage/craft room and needs to soon become his room although it would make the MOST AWESOME office/craft room. It is right off the living room and it used to be open to the living room but my dad built a wall and closed it off with french doors last summer. Anyways Bugaboo #1's room is upstairs in the attic, ok this is not any ole attic, it freakin rocks. It's huge and has tall ceilings with pretty wood beams going across the top and is all open and has all kinds of neat cubbies and such. Well I want that for a Master soooo bad, not only would it make a great room for us but we could have a little sitting area up there, I could have a nice office area, tons of storage and if we wanted we could have Bugaboo #2 up there with us and make him his own little space until he's older ( his crib is in our bedroom now ). Our bugaboo #2 has SOOOOOO much stuff though, I am not kidding, tons of toys and junk and our room is way to small for him but would make more sense with a twin bed in it, however the reason we put him upstairs to begin with is we did not want both kiddos on the main floor by themselves. Hence my dilemma, what would you do? Leave it as is and have a tiny bedroom and no office/craft room or switch rooms? I need help/suggestions pretty please.
Ok so here is what I got at Jcpenney with my coupon for the kiddos, our littlest guy has no clothes as he has grown sooo fast and we just haven't shopped for summer yet.
I got 3 outfits and 1 tshirt for the littlest guy and a tshirt for the big guy and spent 12.00! My husband hates these one piece rompers but I love them especially when you gotta go out and it's super hot these are somewhat cooler for the little guy.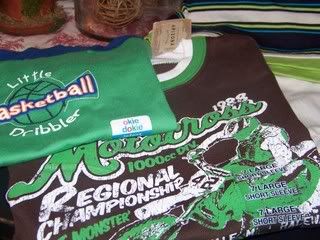 They are having an awesome clearance sale right now...A great time to stock up for back to school, they had these cute tshirts for 3.99 and 3.19 and tons of cute kids clearance for baby and big boys. They also had lots of baby things on clearance, diaper bags, lots of adorable baby bedding, mobiles, comforters, wall stuff, and super soft blankies if you need a baby gift for someone.
Welp hope I didn't bore you too long, lol. Have a Great Monday!