Grrr, My computer has not been cooperating with me, I have been trying to post for days! Really, I have. Turns out it was my internet explorer somehow it was downgraded and today I upgraded it again and now it works just fine. Well the computer is still on it's last leg but anywho I am able to post now! Yipppeee!!! So how did my open house go you ask? It went great! Not as big of a turnout as we expected but it was still nice. Guess who got so busy she forgot to take pictures of her tables and the salon before she took it all down, yep me, I was sooooooo mad at myself, I am a pictureholic and to forget to take pictures is just not acceptable for me, lol.

Anyway I did get a couple of pictures of a few things.....
This is a table I had up by the entrance, a little wrinkly but still pretty cute....
This was the big gift basket we did! I want to win it!!! A free Hair coloring, free massage, and free microderm, ME ME ME! lol, to bad I can't play....
This is my new best friend ( lol ), Tracys room at the salon, it's so freaking cute! She if you cannot tell is the massage therapist there. I met Tracy through the owner who told me to call Tracy about the open house, isn't that so cool? We are soooo alike ( accept I procrastinate and she is COMPLETELY the opposite! ), she likes to craft, can you believe it? I found someone to play with me!!!!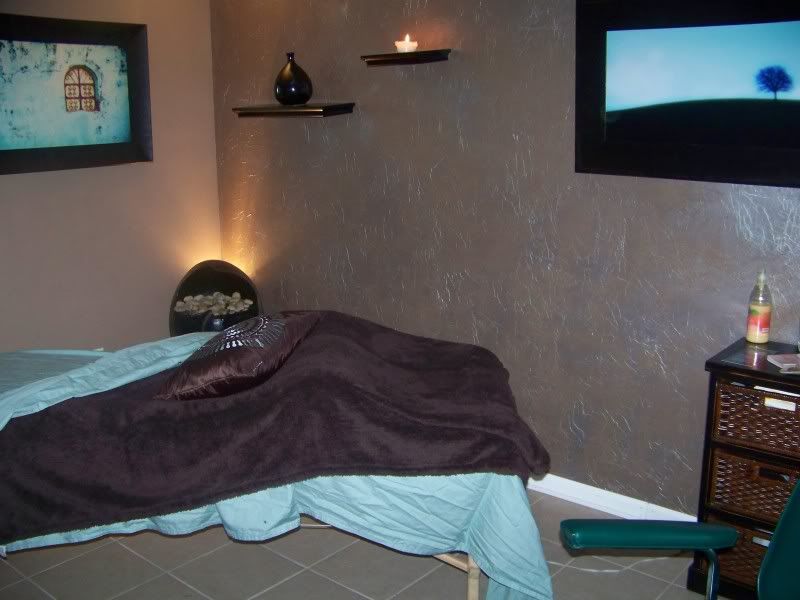 How much do you love the artwork on the walls? It's by a place next door to the
salon
called
The V Gallery
, they are freakin fabulous!!! You have to go and look on their site and see their awesome work. The whole salon is decorated with different pieces of theirs and all the wonderful ladies that work in the salon got to have their pictures done by the
V Gallery
and are on the wall in the salon. I love it!
Well I would love to post pictures of the
salon
but Cori ( the owner ) would probably shave my head as the pictures I have were after the open house and included all of our messes, lol. So I will get some pretty ones and post them later....Have I mentioned how much I love that place? Cori is the coolest, after numerous bad haircuts I finally found her, how you ask? Well my husband works right next door and I had gotten my last bad haircut and needed it fixed and she took me in and made it pretty again and I have been going there ever since. Then one day my husband mentioned to her when he was helping her with a computer that I sold candles and well now I have a little display in there....She has helped me ALOT!
So anyway, that is a little about the open house....Now I am out of here for the day! Tonight I am going to work on making an old window pretty and an old changing table. I bought a piece of junk used changing table long ago off craigslist and hate it and was going to get rid of it as It really isn't needed anymore but thought hey this would be cute in the little guys room painted with baskets on it, so be watching for that!!!!